How to Renew PRC License Online (Step-by-Step Tutorial)
The time for tedious PRC license process is finally over. You don't have to fall in line anymore or wait for a several hours before getting your papers processed. Thanks to the newly launched PRC Online Services. You can now renew PRC license online, or even apply for a licensure examination. PRC calls this new system as Licensure Examination and Registration Information Sytem or LERIS V2.
Through LERIS V2, processing of licenses is simplified. And today, I will walk you through this process. This tutorial will guide you on how to renew PRC license online. Here are the steps:
---
UPDATE AS OF JANUARY 4, 2017:
I would like to extend my sincerest apologies to all of those who sent their queries regarding the PRC Online Renewal process through the comment box below and those who sent me private messages on Facebook. Sorry if I was not able to answer all of your questions. I got so busy with my job as a public school teacher but rest assured that I will try my best to keep this article updated as much as possible. Thank you for your understanding.
PRC BULLETIN ON CONTINUING PROFESSIONAL DEVELOPMENT (CPD) FOR ALL PROFESSIONS.
Manila, January 4, 2017 – The Continuing Professional Development Program Management Committee (CPD-PMC) of the Professional Regulation Commission clarifies that Continuing Professional Development (CPD) as mandatory requirement in the renewal of professional license under Section 10 of R.A. 10912, otherwise known as the CPD Law of 2016, shall be implemented after the effectivity of the Implementing Rules and Regulations (IRR) of R.A. 10912 which will be in March 2017. Thereafter, the CPD Council for each regulated profession shall issue its Operational Guidelines to implement the general IRR for its profession.
However, for those professionals whose Professional Regulatory Laws require CPD credit units prior to the renewal of Professional Identification Cards (PICs), or the professional license, compliance with CPD remains mandatory.
Source: http://www.prc.gov.ph/news/?id=6430
ALSO READ: How to Earn CPD Units for PRC License Renewal (Revised CPD Guidelines)
---
STEP 1:
RENEW PRC LICENSE ONLINE (STEP-BY-STEP PROCESS)
With a laptop or computer and a stable internet connection, kindly head over to: https://www.prc-online.com/
---
STEP 2:
If you already have an account, you may skip the registration form and proceed by signing in, otherwise, register by carefully filling out the dark-colored registration form like the one you'll see below.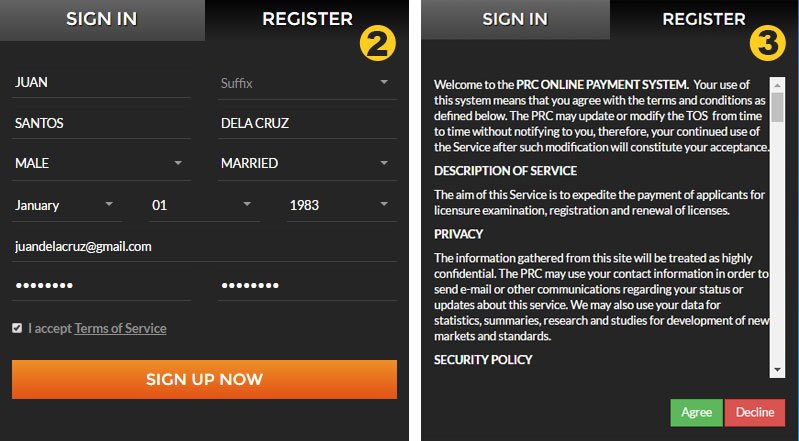 ---
STEP 3:
After providing your personal details, tick the box that says "I accept Terms of Service" (see image no. 2). A window will pop up with the PRC Online Payment System Terms of Service (see image no. 3). Click on the green button with the label "Agree".
Upon successful registration, you'll see a message similar to the one below:

---
STEP 4:
Open the email you have enrolled in the PRC Online Services registration form in STEP 2. You should see a new email like the one I have attached below. Click on "Activate Account". You will be redirected to https://www.prc-online.com/. Log in with your email and proceed to the next step.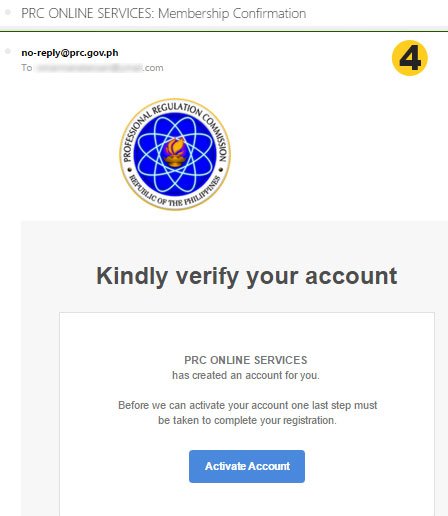 ---
STEP 5:
Once logged in, you'll be presented with this form. Fill out all the fields with your details. Be careful on filling out your name, once saved, you cannot edit it again. Click on "SAVE INFORMATION" when you're finished.
NOTE: You can only select a transaction and renew PRC license online after you have completely updated your profile.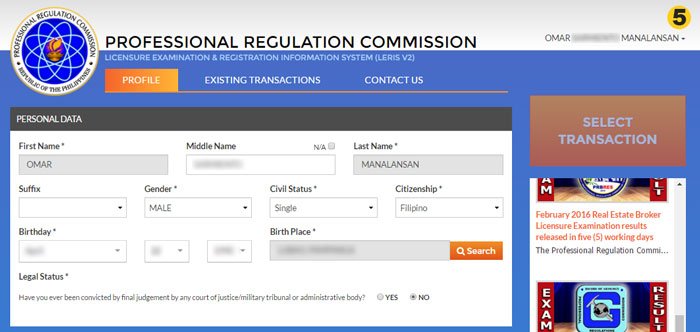 ---
STEP 6:
Click on SELECT TRANSACTION and observe the following reminders: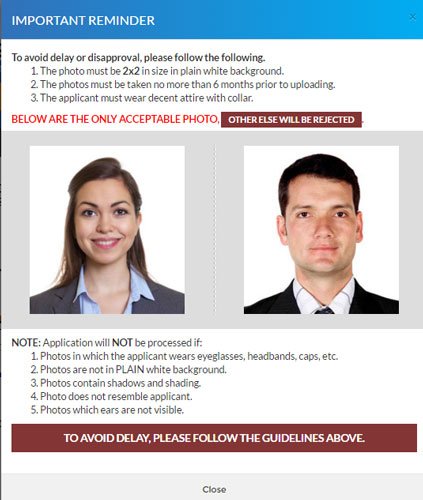 You may upload your photo under your profile at PRC Online Services. This photo of yours will be used for the printing of your new PRC ID. Hence, there's no need to bring a passport size or 2×2 picture when you visit the PRC Office.
Close the reminder. A new window will show up. Click on "Renewal". Choose your profession and type in your PRC License Number and click on Proceed. See image below.
---
STEP 7:
On the next window, choose the branch on where you want to pick up your new license. Select your preferred date and time of pick up. Next, select your mode of payment. PRC Online Services offers the following payment options:
Banks (Over the counter) – BDO, Metrobank, BPI, Landbank, RCBC, Chinabank, Eastwest Bank, Union Bank, Security Bank, PNB, DBP, and more…
Banks (Online) – Pay online through BDO Internet Banking, BPI Express Online, Chinabank Online, Metrobank Direct, RCBC Access One, Union Bank EON/Internet Banking & UCBP Connect
Mobile Payment – To buy load using GCash, just dial *143# for free using your Globe mobile, select GCash and select BUY LOAD. You can send load to your own Globe/TM number or to another Globe/TM number.
Bayad Center – Just proceed to any BAYAD CENTER outlets or to their partners like LBC, Robinsons, eBiz, Petnet, Walter Mart, MailMore, Palawan Pawnshop, Villarica Pawnshop and more…
You can also pay at SM Megamall, SM North Edsa, SM Manila.
After clicking on your preferred mode of payment, a window will pop up with your reference number (save it or write it down) and the amount you have to pay. Settle or pay this amount before the deadline and keep your transaction number or receipt of payment.
If you want, you can also CANCEL your appointment. Just browse your profile and click on TRANSACTIONS tab.
---
STEP 8: 
Visit the PRC branch you have selected on the date and time you have set. Claim your new license. DO NOT FORGET to bring your payment receipt/transaction number, and the reference number on your PRC Online Services dashboard. To avoid hassle, please also bring your important documents such as your old PRC License, Birth Certificate, another valid ID, set of pictures, etc. 
---
Frequently Asked Questions About the New PRC Online Services
QUESTION 1: If I have completed the online renewal process, when will I be able to claim my new PRC ID?
ANSWER: The same day you have selected when you set the renewal appointment. For example, today is January 1, 2017 and you have set the appointment to be on January 5, 2016, you will be able to claim your PRC ID on the same date you have picked, January 5, 2016.
QUESTION 2: How long will it take for me to claim my license?
ANSWER: My co-teacher has renewed her license last April 20, 2016 and according to her, once you visit the PRC Main Office, they will request you for your old and expired PRC ID. They will also ask you if you have already done the online renewal process.
 It only took her less than an hour before she was able to claim here new PRC license.
QUESTION 3: I cannot click on the Renewal button, it is disabled. What should I do?
ANSWER: None, just like most websites, PRC Online Services is not immune to system down time. If you see an error like this while trying to renew your license online, please try again another time. It's more likely that the PRC website is going under maintenance at these times or they are installing an update for the system. Please be patient.
QUESTION 4: Should I bring a passport size or a 2×2 size picture when I visit the PRC Main Office?
ANSWER: No, not necessarily but you can still bring it if you want. Under your profile on PRC Online Services, you can upload your picture that will be used or printed on your new PRC license. Just be sure to follow the instructions on the screen.
---
For those who cannot claim their PRC ID personally, you can process it through a representative.
PRC-registered professional acting as representatives may transact with PRC upon presentation of Authorization Letter and his/her professional ID.
Representatives filing the application and claiming the professional ID in behalf of the professional must present Special Power of Attorney and valid identification of the professional and the representative.
---
IMPORTANT NOTES
FOR OF

Ws
You can fill out the form online and ask your representative or a relative to pay for the corresponding renewal fee. Please ask your representative to bring the following as he/she visits the PRC Office:
Authorization Letter from you
Special Power of Attorney
1 passport size picture of you (white background and with nametag). Your picture should be recently taken.
A valid identification of the professional and the representative.
---
FOR MARRIED FEMALES WHO WANT TO CHANGE STATUS AND TO THOSE WHO WANT TO RENEW THEIR LICENSE MANUALLY BY VISITING THE PRC MAIN OFFICE
AS OF MAY 17, 2016
Just follow these steps:
Visit the PRC Main Office, when you arrive there, you'll be given two different forms, one for the renewal and one for the change of status (for married females).
2. For married females, fill out both forms and proceed to Assessment of Payment on Window 27. For other professionals who are not going to change status, you must only fill out the renewal form.
3. Pay your renewal fees at the cashier. Windows 1, 2, 33, 34, 35, and 36.
4. After the payment process, proceed to Window 30 and present your receipt from the cashier. You will then be given a claim stub/slip for the releasing of your new PRC license.
5. Claim your PRC license as instructed by the personnel who will give your claiming slip.
That's it! Thank you for taking the time to read. I hope you can renew your PRC license with ease. If you find this tutorial helpful, please do share it on social media. Thank you.
---
FOR OTHER QUESTIONS AND CONCERNS PLEASE CONTACT PRC THROUGH THE FOLLOWING NUMBERS:

How to Write an Essay on Sally Field Sybil
Essays on Sibyl TV series require knowing the plot structure
Learn what to write in your essay on Sally Field Sybil topic to compose a substantial and exhaustive paper. The following post gives plenty of tips.
How to Write an Essay on Sally Field Sybil
Although, essays on the known TV series might seem to be an easy task to fulfill at first, there are occasions when an in-depth study of the topic is required to highlight some remarkable facts of actors' biography. A famous American television miniseries Sybil is just the case. Sally Field acquired a role, which seemed to reflect lots of her personal dramas and to uncover her full potential as an actress.
Her complex and dramatic character was unveiled in the best way possible making viewers deeply sympathize with the turmoil she suffered. The following post will try to cover some key aspects of an essay devoted to this series.
Biography
After you've finished the introduction part it is recommended that you mention some biographical facts your readers might find peculiar. One should stress that Sally Field grew up in the family where quarrels and fights between mother and stepfather were quite a frequent issue.
This period of life had left an abiding mark in Sally's memory but, at the same time, helped her to fully embrace a future role. Many critics admit that Sally Field Sybil wouldn't be played so perfectly if the actress didn't fall into her role. It was more than just playing Sybil, it was becoming Sybil.
Movies and Series Featuring Sally Field
Speaking of essays on TV series topics, a paper of this sort should contain the exhaustive information about the roles and movies an actor or actress featured in. This helps readers to get a clear picture of actor's professional experience, same as his/her path to the glory and general recognition.
For Sally Field the fame came after she had played the lead role in the known sitcom Gidget of 1965. It was the start point of her future career as an actress. Further years paved the way for the roles in the movies and series like
The Flying Nun (Elsie Ethrington)
Smokey and the Bandit (Carrie/'Frog')
Norma Rae (Norma Rae)
Places in the Heart (Edna Spalding)
It is notable that in the period from 90's to 00's Sally worked behind the scene as a film director and didn't show up on the screen much. The only remarkable role that she had was Miranda Hillard in the comedy Mrs. Doutfire, which is still thought to be one of the best family movies.
Sybil
This part of your work should concentrate exactly on her character in the 1976 TV series Sybil. You may draw a parallel between the other roles of an actress and make your own claims regarding the things making her an all-round person. It is, surely, your choice what to focus on.
As one probably knows, Sally Field played a woman named Sybil who suffered from dissociative identity disorder. As the story develops, a viewer discovers that the woman has multiple personalities 'living' inside her.
Naturally, this fact leads to the occurrence of drama and total inability to live a normal social life. One personality exchanges the other and some of those are capable of doing harm to Sybil, but the woman seems to not know about that.
When analyzing such a complex character or, better to say, a number of characters played by one and the same person one, surely, needs to pay close attention to the backgrounds causing this kind of disorder.
As some people say, things happen for a reason, and Sybil's life was not an exception. It is expected that you carefully study the woman's relationships with her mother and make your own conclusions regarding the matter as it appears to be an important aspect to cover.
In closing, we'd like to add that writing a substantial essay on a mentioned TV series topic might probably require watching all of the seasons of a given movie. If you skip some particular parts you might miss an important plot component that is needed to better understand a character, as well as her motives and rueful feelings.
When you start composing your essay try to take a complex approach to unveiling the character. Think what you'd feel while experiencing the same turmoil and you'll know what aspects to highlight.
Kumusta at Paalam Graduation Song by Sapang Alat Choir
Each year, during graduation season, it is not just a common practice but a tradition to look for the best, memorable, and tear-jerking graduation songs. Today, I'll be sharing with you "Kumusta at Paalam" , an originally composed graduation song that will surely bring jitters to your school's year end rites should you decide to use it.
Kumusta at Paalam / Graduation / Moving Up Song
Performed by: Sapang Alat Choir / Youth Siklab
Music & Words by: Ashdevon
Ito'y isang paalam
Salamat sa makabuluhang yugto
Taglay ang lahat ng natutunang kaalaman
Muli kong hahamunin ang mundo
Refrain:
Lahat ng pangarap ko'y mas malapit na ngayon
Sumpang sa kinabukasan puso'y itutuon
Chorus:
Kumusta(Kamusta) at paalam dito na nagtutugma
Ang bukas ng kahapon ngayon na ang simula
Kumusta at paalam dito na nagtutugma
Ano mang ibigay ng mundo kami ay nakahanda
Malaking pasasalamat
Sa aming magulang at mga guro
Sa walang sawang pagpasensya't pagmamahal
Asahan na hindi kayo mabibigo
Refrain:
Lahat ng pangarap ko'y mas malinaw na ngayon
Takot sa panginoon ANG puso'y itutuon
Repeat Chorus:
Kumusta at Paalam is an original composition of Ashdevon, a Songwriter/Composer, Vocal & Music Arranger , a Chorale Trainer, Instrumentalist, and an Indie Artist.
It was performed by Sapang Alat Choir (Ella Joyce Angeles, Clarizze Supremedo, Eunice Conde, Patricia Ann Conde, Alyzza Supremedo, Leizel)
In his YouTube channel, Ashdevon described Kumusta at Paalam:
Ito po ay isang awit sa pagpupugay sa lahat ng mga nagtapos/magtatapos, mga dakilang guro at mga pinaka mamahal na mga magulang. Ito po ay sadyang isinulat para sa konsepto ng pagtatapos."
If you want to have a FREE copy of the instrumental/minus one and lyric sheet of Kumusta at Paalam Graduation Song/Moving Up Song, please contact Ashdevon and the original singers through the following channels:
https://www.facebook.com/ashdevon
https://www.facebook.com/AshdevonMusic
https://www.facebook.com/SapangAlatChoir
https://soundcloud.com/sapang-alat-choir
https://www.facebook.com/YouthSiklab
or send him at email at: denz_ashdevon@yahoo.com
If you ever decide to use Kumusta at Paalam as your school's graduation song for this school year, please do not forget to give credits to its original singers and composers. Thank you so much!
Source: https://www.facebook.com/ashdevon/videos/1114636271882178/
Mountain Teachers Dangerously Cross a River on Their Way to School
A video of teachers risking their lives by crossing a river a on their way to school has gone viral on Facebook. The video was uploaded by Sir Ryan Pugales, an elementary teacher from Bukidnon.
As of writing, the video has already been viewed 22 thousand times and is being shared continuously. Teachers and other Facebook users who have watched the video urged Sir Ryan to send the video to the higher authorities to let them know of such situation our fellow teachers from Bukidnon are currently facing, everyday.
Unparalleled Devotion to Service
Teaching, among all other professions, probably is the most demanding job there is but it's also one the most rewarding job one can have. The video below only proves how much sacrifice we are willing to do in our efforts to provide quality education to our pupils.
On a sad note, it is a MUST for our government to be enlightened about the sacrifices of teachers and aid them in whatever way they can to lessen situations like these wherein teachers risk their own lives on their way to school.
All credits goes to Sir Ryan Pugales for the video footage. His original post can be seen here.
Please share this article so we can spread the message and make the higher authorities in our department be aware of this. Thank you.