The time for tedious PRC license process is finally over. You don't have to fall in line anymore or wait for a several hours before getting your papers processed. Thanks to the newly launched PRC Online Services. You can now renew PRC license online, or even apply for a licensure examination. PRC calls this new system as Licensure Examination and Registration Information Sytem or LERIS V2.
Through LERIS V2, processing of licenses is simplified. And today, I will walk you through this process. This tutorial will guide you on how to renew PRC license online. Here are the steps:
---
UPDATE AS OF JANUARY 4, 2017:
I would like to extend my sincerest apologies to all of those who sent their queries regarding the PRC Online Renewal process through the comment box below and those who sent me private messages on Facebook. Sorry if I was not able to answer all of your questions. I got so busy with my job as a public school teacher but rest assured that I will try my best to keep this article updated as much as possible. Thank you for your understanding.
PRC BULLETIN ON CONTINUING PROFESSIONAL DEVELOPMENT (CPD) FOR ALL PROFESSIONS.
Manila, January 4, 2017 – The Continuing Professional Development Program Management Committee (CPD-PMC) of the Professional Regulation Commission clarifies that Continuing Professional Development (CPD) as mandatory requirement in the renewal of professional license under Section 10 of R.A. 10912, otherwise known as the CPD Law of 2016, shall be implemented after the effectivity of the Implementing Rules and Regulations (IRR) of R.A. 10912 which will be in March 2017. Thereafter, the CPD Council for each regulated profession shall issue its Operational Guidelines to implement the general IRR for its profession.
However, for those professionals whose Professional Regulatory Laws require CPD credit units prior to the renewal of Professional Identification Cards (PICs), or the professional license, compliance with CPD remains mandatory.
Source: http://www.prc.gov.ph/news/?id=6430
ALSO READ: How to Earn CPD Units for PRC License Renewal (Revised CPD Guidelines)
---
STEP 1:
RENEW PRC LICENSE ONLINE (STEP-BY-STEP PROCESS)
With a laptop or computer and a stable internet connection, kindly head over to: https://www.prc-online.com/
---
STEP 2:
If you already have an account, you may skip the registration form and proceed by signing in, otherwise, register by carefully filling out the dark-colored registration form like the one you'll see below.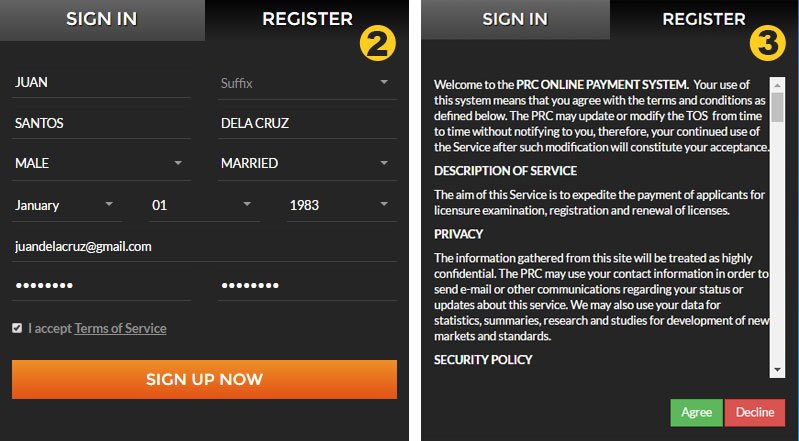 ---
STEP 3:
After providing your personal details, tick the box that says "I accept Terms of Service" (see image no. 2). A window will pop up with the PRC Online Payment System Terms of Service (see image no. 3). Click on the green button with the label "Agree".
Upon successful registration, you'll see a message similar to the one below:

---
STEP 4:
Open the email you have enrolled in the PRC Online Services registration form in STEP 2. You should see a new email like the one I have attached below. Click on "Activate Account". You will be redirected to https://www.prc-online.com/. Log in with your email and proceed to the next step.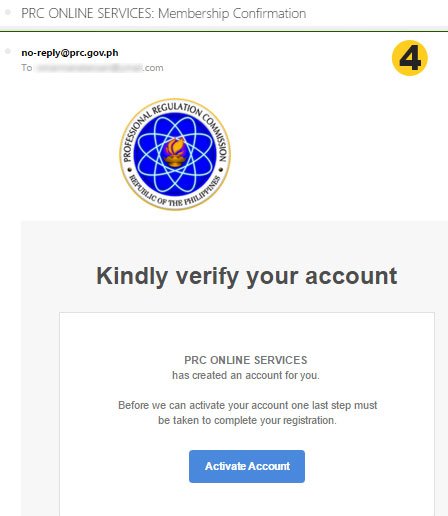 ---
STEP 5:
Once logged in, you'll be presented with this form. Fill out all the fields with your details. Be careful on filling out your name, once saved, you cannot edit it again. Click on "SAVE INFORMATION" when you're finished.
NOTE: You can only select a transaction and renew PRC license online after you have completely updated your profile.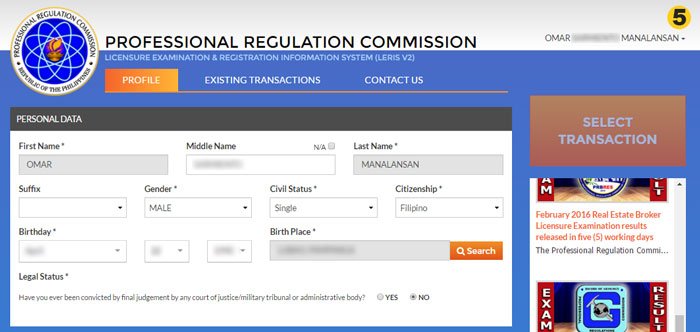 ---
STEP 6:
Click on SELECT TRANSACTION and observe the following reminders: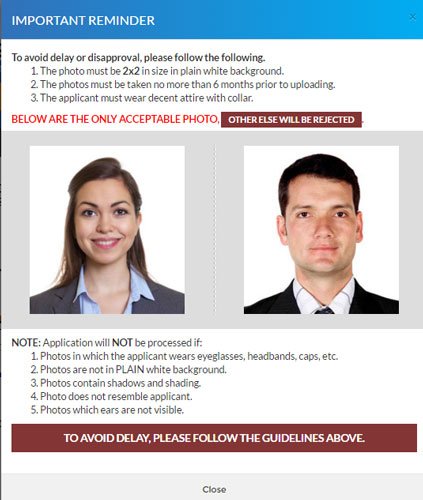 You may upload your photo under your profile at PRC Online Services. This photo of yours will be used for the printing of your new PRC ID. Hence, there's no need to bring a passport size or 2×2 picture when you visit the PRC Office.
Close the reminder. A new window will show up. Click on "Renewal". Choose your profession and type in your PRC License Number and click on Proceed. See image below.
---
STEP 7:
On the next window, choose the branch on where you want to pick up your new license. Select your preferred date and time of pick up. Next, select your mode of payment. PRC Online Services offers the following payment options:
Banks (Over the counter) – BDO, Metrobank, BPI, Landbank, RCBC, Chinabank, Eastwest Bank, Union Bank, Security Bank, PNB, DBP, and more…
Banks (Online) – Pay online through BDO Internet Banking, BPI Express Online, Chinabank Online, Metrobank Direct, RCBC Access One, Union Bank EON/Internet Banking & UCBP Connect
Mobile Payment – To buy load using GCash, just dial *143# for free using your Globe mobile, select GCash and select BUY LOAD. You can send load to your own Globe/TM number or to another Globe/TM number.
Bayad Center – Just proceed to any BAYAD CENTER outlets or to their partners like LBC, Robinsons, eBiz, Petnet, Walter Mart, MailMore, Palawan Pawnshop, Villarica Pawnshop and more…
You can also pay at SM Megamall, SM North Edsa, SM Manila.
After clicking on your preferred mode of payment, a window will pop up with your reference number (save it or write it down) and the amount you have to pay. Settle or pay this amount before the deadline and keep your transaction number or receipt of payment.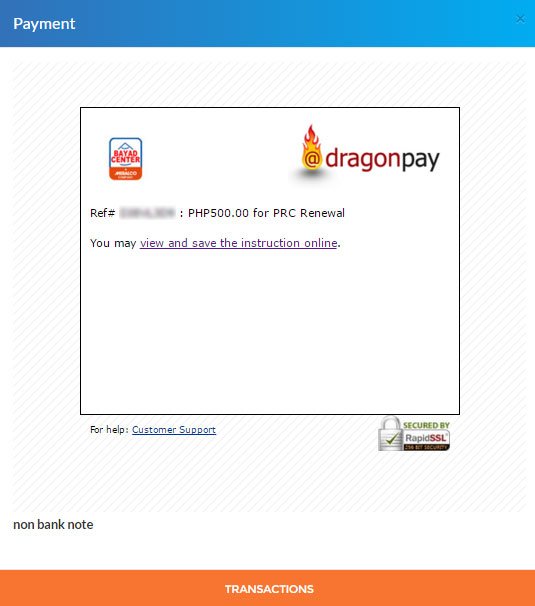 If you want, you can also CANCEL your appointment. Just browse your profile and click on TRANSACTIONS tab.
---
STEP 8: 
Visit the PRC branch you have selected on the date and time you have set. Claim your new license. DO NOT FORGET to bring your payment receipt/transaction number, and the reference number on your PRC Online Services dashboard. To avoid hassle, please also bring your important documents such as your old PRC License, Birth Certificate, another valid ID, set of pictures, etc. 
---
Frequently Asked Questions About the New PRC Online Services
QUESTION 1: If I have completed the online renewal process, when will I be able to claim my new PRC ID?
ANSWER: The same day you have selected when you set the renewal appointment. For example, today is January 1, 2017 and you have set the appointment to be on January 5, 2016, you will be able to claim your PRC ID on the same date you have picked, January 5, 2016.
QUESTION 2: How long will it take for me to claim my license?
ANSWER: My co-teacher has renewed her license last April 20, 2016 and according to her, once you visit the PRC Main Office, they will request you for your old and expired PRC ID. They will also ask you if you have already done the online renewal process.
 It only took her less than an hour before she was able to claim here new PRC license.
QUESTION 3: I cannot click on the Renewal button, it is disabled. What should I do?
ANSWER: None, just like most websites, PRC Online Services is not immune to system down time. If you see an error like this while trying to renew your license online, please try again another time. It's more likely that the PRC website is going under maintenance at these times or they are installing an update for the system. Please be patient.
QUESTION 4: Should I bring a passport size or a 2×2 size picture when I visit the PRC Main Office?
ANSWER: No, not necessarily but you can still bring it if you want. Under your profile on PRC Online Services, you can upload your picture that will be used or printed on your new PRC license. Just be sure to follow the instructions on the screen.
---
For those who cannot claim their PRC ID personally, you can process it through a representative.
PRC-registered professional acting as representatives may transact with PRC upon presentation of Authorization Letter and his/her professional ID.
Representatives filing the application and claiming the professional ID in behalf of the professional must present Special Power of Attorney and valid identification of the professional and the representative.
---
IMPORTANT NOTES
FOR OF

Ws
You can fill out the form online and ask your representative or a relative to pay for the corresponding renewal fee. Please ask your representative to bring the following as he/she visits the PRC Office:
Authorization Letter from you
Special Power of Attorney
1 passport size picture of you (white background and with nametag). Your picture should be recently taken.
A valid identification of the professional and the representative.
---
FOR MARRIED FEMALES WHO WANT TO CHANGE STATUS AND TO THOSE WHO WANT TO RENEW THEIR LICENSE MANUALLY BY VISITING THE PRC MAIN OFFICE
AS OF MAY 17, 2016
Just follow these steps:
Visit the PRC Main Office, when you arrive there, you'll be given two different forms, one for the renewal and one for the change of status (for married females).
2. For married females, fill out both forms and proceed to Assessment of Payment on Window 27. For other professionals who are not going to change status, you must only fill out the renewal form.
3. Pay your renewal fees at the cashier. Windows 1, 2, 33, 34, 35, and 36.
4. After the payment process, proceed to Window 30 and present your receipt from the cashier. You will then be given a claim stub/slip for the releasing of your new PRC license.
5. Claim your PRC license as instructed by the personnel who will give your claiming slip.
That's it! Thank you for taking the time to read. I hope you can renew your PRC license with ease. If you find this tutorial helpful, please do share it on social media. Thank you.
---
FOR OTHER QUESTIONS AND CONCERNS PLEASE CONTACT PRC THROUGH THE FOLLOWING NUMBERS: