DepEd Order No.11, s.2016 – Additional Guidelines to DepEd Order No. 47, s. 2014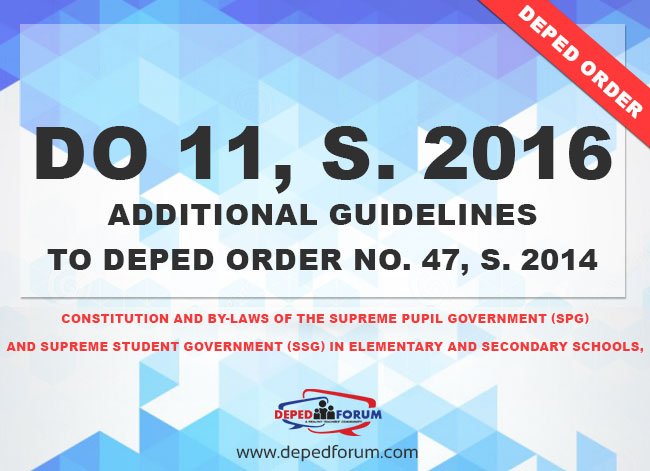 Pursuant to DepEd Order (DO) No. 47, s. 2014 entitled Constitution and By-Laws of the Supreme Pupil Government (SPG) and Supreme Student Government (SSG) in Elementary and Secondary Schools, the organization of a student government (SG) aims to establish a representative body that fosters leadership and promote learners welfare and excellence for all.
In view of the implementation of Senior High School (SHS) in School Year 2016-2017, the Department of Education (DepEd), issues additional guidelines on the integration of the SHS entrants in the organization of the SSG in all secondary schools.
The guidelines on the organization and election of the SHS SSG aims to:

enable the students belonging to SHS to organize and to participate in the SG;
provide the guidelines in the conduct of the elections of the SSG in SHS; and
define the duties and responsibilities of the officers in the SSG of the SHS.
To read more about DepEd Order No.11, s.2016, download it directly from DepEd website using the button below.