Official Modified School Forms From DepEd Website
Modified School Forms are the documents the serves as the core of school records in every school. These seven different forms with each having its specific purpose. The Modified School Forms you can download here are in a Portable Document Format (PDF) except the Data Description.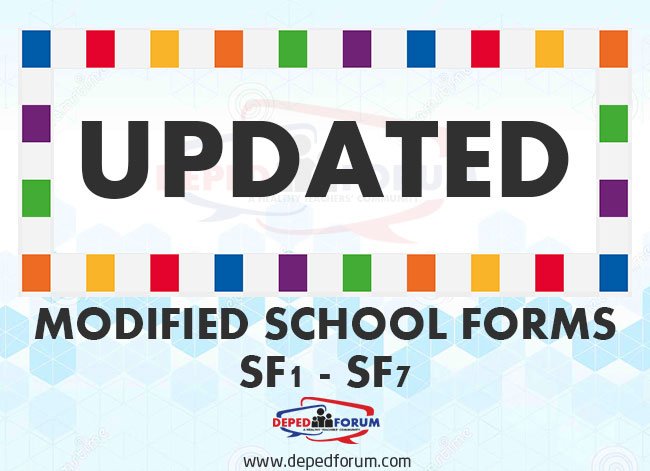 MODIFIED SCHOOL FORMS SHORT DESCRIPTION
School Form 1 contains the basic profile of a pupil including his birth date, age, address, name of parents, as well as his Learner Reference Number (LRN).
School Form 2 can be used by teachers to monitor the pupils' daily attendance record.
School Form 3 on the other hand, is used to keep track of the books that have been issued and those that have been returned.
School Form 4 or Monthly Learner and Movement and Attendance replaced STS Form 4 formerly known as Absenteeism and Dropout Profile Form.
School Form 5 or the Report on Promotion & Level of Proficiency shows the list of pupils that have been promoted as well as their level of proficiency.
School Form 6 gives you the summary of pupils in every grade level that have been promoted, retained or those that have an irregular status. It also shows the level of proficiency in four different levels such as BEGINNING, DEVELOPING, APPROACHING PROFICIENCY, PROFICIENT, and ADVANCED.
School Form 7 or the School Personnel Assignment List and Basic Profile contains the basic profile of all the employees and personnel of a school as well as their respective assignments.
The Data Description that you can download below contains a comprehensive guide on how to use each School Form.
MODIFIED SCHOOL FORMS
To get all the Modified School Forms in a single compressed file, please download it below.

NOTE: For those who are asking on why there is an ADJUSTED SF5 AND SF6, please read: Guidelines on How to Use the Adjusted SF5 and SF6.

Everything You Need to Know About Emotional Intellect and How to Improve It
By the end of the 20th century, researchers noticed that, for a successful career, it was not enough to have high intelligence and be an expert in some field. Something more is needed, something related to the feelings and emotions of a person. This quality is called emotional intelligence.
According to the scientific journalist Daniel Goleman, the concept of emotional intelligence, or EI, includes 5 components.
1. Self-consciousness – the ability of a person to correctly understand his emotions and motivation, assess their weak and strong points, and define goals and life values.
2. Self-regulation – the ability to control one's emotions and restrain impulses.
3. Motivation – the ability to strive for a goal for the sake of its achievement.
4. Empathy – the ability to understand the emotions experienced by others, take the feelings of other people into account when making decisions, as well as empathize with other people.
5. Social skills – the ability to build relationships with people and guide their behavior in the desired direction.
The high level of development of all components of EI helps us more effectively build a career and feel satisfaction from our work. Emotional intelligence can be improved by having relationships and interacting with people, so visit https://godatenow.com and start self-improvement and meeting new people right now. So, let's spend some time and talk about ways of improving your emotional intelligence.
Learning to track your condition
A person achieves a goal only when they clearly see where they need to go and understand what is going on around them. He who does not know his own emotional world goes through life with his eyes closed.
According to Paul Ekman, an American psychologist and an expert in the study of emotions, we have 7 basic emotions: anger, sadness, contempt, disgust, fear, surprise, and joy. They are mixed into cocktails and form the basis of automatic reactions to what is happening. Moreover, several emotions (usually two) are leading in our lives. And it is important to track which ones.
Exercise 1
To find out how you understand your feelings, answer 3 questions.
1. What emotion am I experiencing now?
2. Is this emotion for me at this moment?
3. How often do I experience this emotion throughout the day?
Describe only those emotions that you have noted when reading these questions. This exercise will help you start the process of self-analysis. Do it regularly in different situations, and, eventually, you will get used to paying attention to your feelings.
Exercise 2
"Diary ofemotions." Throughout the day, record all your emotions and the eventsthat caused them. The goal is to understand yourself better. For visualization,you can use colored markers or emoticons to indicate the color of emotions. Andthen set yourself a task – to increase the number of funny emoticons in thediary. And remember, most events are neutral in nature. And emotions are justour reaction to them. Exercises are good and all, but you should also expandyour knowledge about the concept of emotional intelligence and everything aboutit, so check out www.danielgoleman.info/topics/emotional-intelligence/ for everything else you may need to know about EI.
Exercise 3
1. Lower your head, silently droop your shoulders, and, while looking at the floor, say in a sad voice, "I am a successful person; everything works out for me…"
2. Then raise your hands up, looking at the sky, with your chin raised, straighten your back, and say in a confident voice, "I am a loser; everything is wrong with me; nothing works out…"
What did you feel? It turns out that the brain does not understand the words! But facial expressions and gestures send signals to the cortex of the brain (the ancient limbic system), and we begin to feel what the body is transmitting.
Now that you have felt the difference, for two weeks, strike a "leader pose" for at least a couple of minutes a day. On the third week, you will see how the world has changed around!
Exercise 4
Sit back, take a breath, and focus on breathing. Take a quiet breath on the count of 4, hold your breath for 4 counts, exhale on 4 counts. Thus, increase this count up to 8 counts. Breathe like that until you feel that you have restored your emotional state.
Brigada Eskwela 2017 T-Shirt Design
Hello teachers and colleagues under the Department of Education! It's almost two months since I last posted here at DepEd Forum. Today, I will be sharing with you my newly created Brigada Eskwela 2017 t-shirt design.
It's only a matter of days before the teachers, pupils, and all the stakeholders of schools take part in the upcoming Brigada Eskwela 2017. For the past couple of years, it has become a tradition to wear a universal t-shirt, one that is being released by DepEd and is being posted on their official website. Unfortunately, there is still no official t-shirt design that has been released as of this writing that's why I have decided to create my own design for personal use or for the benefit of all the teachers who want to use it. In other words, this is an unofficial t-shirt designed created by me.
Below is my version 1 of my Brigada Eskwela 2017 t-shirt design. I tagged it as version 1 because I would like to ask for your suggestions for the enhancement/improvement of the design. Otherwise, I'll have it printed.
As you can see, I made the design a bit more "Filipino" with the use of our national flag's color tones.
If you want to use this Brigada Eskwela 2017 t-shirt design, just let me know by leaving a comment below. If more and more teachers will be requesting for this t-shirt, I might consider a mass production. Also, if you like this this post, kindly share it  on social media especially on Facebook . Thank you very much!
Certificate of Completion and Diploma Templates for Grades 6, 10, and 12 (Enclosures to DO No. 8, s.2017)
Certificate of Completion and Diploma Templates for Grades 6, 10, 12 were initially enclosed in DO No.8, s. 2017. However, the Portable Document File (PDF) that is available for download at the official website of DepEd doesn't contain the said templates. With that, I have attached them in this post. As stated by the Department of Education (DepEd), this year's ceremonies shall focus on the theme Sabay-Sabay na Hakbang Tungo sa Maunlad na Kinabukasan. This theme highlights the importance of the concerted endeavor and collaborative efforts of the stakeholders and learners in achieving the shared vision of quality, accessible, relevant, and liberating basic education for all.  It emphasizes the significance of unity in forging a better and progressive future for the Filipino youth.
Unders DO 8, s. 2017 or School Year 2016-2017 End of School Year Rites, DepEd reiterates the government's austerity program through the observance of the following policies:
Graduation rites should be simple but meaningful which encourage civil rights, a sense of community, and personal responsibility. While these rites mark a milestone in the life of the learners, these should be conducted without excessive spending, extravagant attire, or extraordinary venue.
Moving Up or Closing Ceremonies should be simple involving only the learners, their parents and the school;
Non-academic projects such as attendance to field trips, film showing, junior-senior promenade and other school events should not be imposed as requirements for graduation or completion;
ALSO SEE: Graduation Programme Design in Microsoft Publisher Format
           Public Schools only
Expenses relative to the activity should be charged to the school Maintenance and Other Operating Expenses under the 2017 Budget;
Any DepEd personnel should not be allowed to collect any graduation/moving up/closing ceremony fees or any kind of contribution;
Parent-Teachers Association (PTA) may give donations in cash or in kind; and
Contribution for the annual yearbook, if any, should be on a voluntary basis.
Further, the end of school year rites and moving up or closing ceremony should be conducted in an appropriate solemn ceremony befitting the learners and their parents and shall not be used as a political forum.
To download the Certificate of Completion and Diploma Templates for Grades 6, 10, and 12, just click the download button below or the sample certificate above.