Modified School Forms are the documents the serves as the core of school records in every school. These seven different forms with each having its specific purpose. The Modified School Forms you can download here are in a Portable Document Format (PDF) except the Data Description.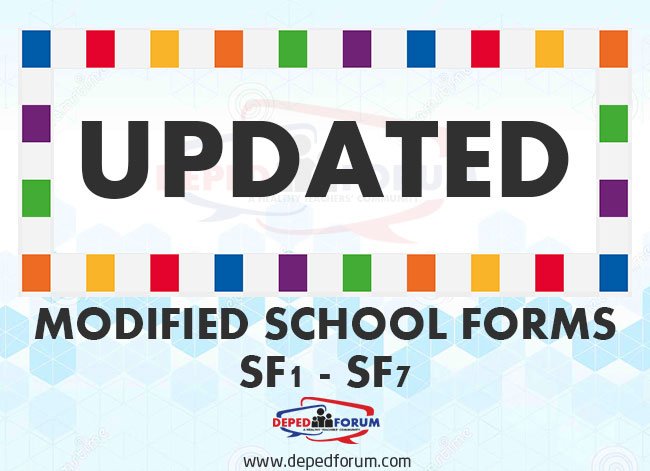 MODIFIED SCHOOL FORMS SHORT DESCRIPTION
School Form 1 contains the basic profile of a pupil including his birth date, age, address, name of parents, as well as his Learner Reference Number (LRN).
School Form 2 can be used by teachers to monitor the pupils' daily attendance record.
School Form 3 on the other hand, is used to keep track of the books that have been issued and those that have been returned.
School Form 4 or Monthly Learner and Movement and Attendance replaced STS Form 4 formerly known as Absenteeism and Dropout Profile Form.
School Form 5 or the Report on Promotion & Level of Proficiency shows the list of pupils that have been promoted as well as their level of proficiency.
School Form 6 gives you the summary of pupils in every grade level that have been promoted, retained or those that have an irregular status. It also shows the level of proficiency in four different levels such as BEGINNING, DEVELOPING, APPROACHING PROFICIENCY, PROFICIENT, and ADVANCED.
School Form 7 or the School Personnel Assignment List and Basic Profile contains the basic profile of all the employees and personnel of a school as well as their respective assignments.
The Data Description that you can download below contains a comprehensive guide on how to use each School Form.
MODIFIED SCHOOL FORMS
To get all the Modified School Forms in a single compressed file, please download it below.

NOTE: For those who are asking on why there is an ADJUSTED SF5 AND SF6, please read: Guidelines on How to Use the Adjusted SF5 and SF6.