Howdy teachers and forumers. Today I'll be showing you a tutorial on how to enroll a Landbank iAccess account. It's easier than what you think. You just need your existing Landbank ATM card and a stable internet connection.
Government employees particularly teachers, were issued their own Landbank ATM Card. As an ATM card user, we all know that it's quite a hassle to fall in line and wait several minutes in front of an ATM machine just to check our account balance. Good thing there is Landbank iAccess. You can check your balance online easily.
What is LANDBANK iAccess?
LANDBANK iAccess is an alternative banking channel designed for individual customers, which provides a convenient, reliable and secure delivery of banking transactions via the Internet. This is available 24 hours a day, 7 days a week
There are two ways to enroll a Landbank iAccess Account
a. Online Enrollment
Applicable only to ATM accounts
Access is limited to non-monetary transactions only
Can be done by logging on to LANDBANK iAccess website
b. Branch Enrollment
Applicable to both ATM and Current accounts
Access may be non-monetary or monetary transactions or both
Can be done through your LANDBANK depository branch by submitting a duly accomplished LANDBANK iAccess Enrollment and Maintenance Agreement (LI-EMA) form.
Today we will focus on the online enrollment.
Here's how to enroll a Landbank iAccess Account.
Visit Landbank iAccess Official Website
The LANDBANK iAccess Official Website is at:  https://www.lbpiaccess.com
Please remember this or write it down on a paper.
LANDBANK iAccess TERMS AND CONDITIONS
Read the LANDBANK iAccess TERMS AND CONDITIONS and when you reach the bottom of the page, click on the "I Agree" button.
Fill Out the Registration Form
Please take note that the fields marked with asterisk (*) are required. Please type in n.a. if these items are not applicable.
For JAI field, please see the image below: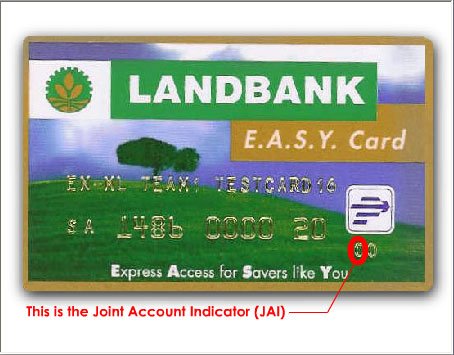 In my case, since I'm still single, I entered the "0" in the JAI field.
Once you completed filling out the form, click on the SUBMIT button.
If you have successfully submitted your application, you will receive an email from a Landbank representative for verification purposes.
Otherwise, if ever you have encountered and error telling you that "Account number is currently enrolled as own Deposit Account" this means that you might already have an account at iAccess. This usually happens for newly issued ATM cards.
I have experienced such issue first hand. I've been issued with Landbank ATM card last August 2015, two months after I became a permanent DepEd employee. I tried to enroll a Landbank iAccess Account only to encounter the said error above. What I did is that I sent them an email regarding my case and after a few days, they called me using a landline and advised me to proceed to the nearest Landbank branch to retrieve my Landank iAccess username and password.
And so I did, I went to Landbank and they gave me my login credentials.
Do you need assistance?
Please call the LANDBANK Helpdesk at 405-7000 (1-800-10-405-7000 for domestic toll-free calls) Or you may send them an e-mail at  lbpiaccess@mail.landbank.com
SECURITY TIPS:
For your own protection, we encourage you to avoid using public computers in accessing your iAccess account. In instances when you have to, please logout properly after completing your transaction.
Please see the image below to see the list of Landbank's official websites and their respective URLs.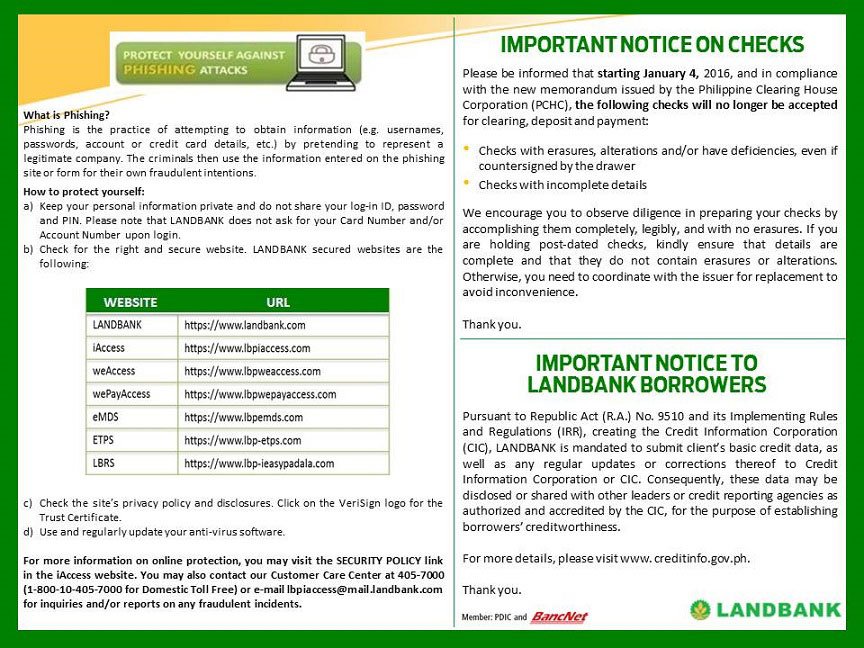 And to fully understand how Landbank iAccess Account works, it's features, and the enrollment process, download this PDF file that contains LANDBANK iAccess  FREQUENTLY ASKED QUESTIONS.