Did you know that you can now learn and finish a course from TESDA by studying at the convenience of your own home? Yes, that's true! TESDA now offers free online courses that you can learn online. Through TESDA Free Online Courses, anyone who wishes to learn a particular set of skills will have the chance to complete a course and earn a National Certificate.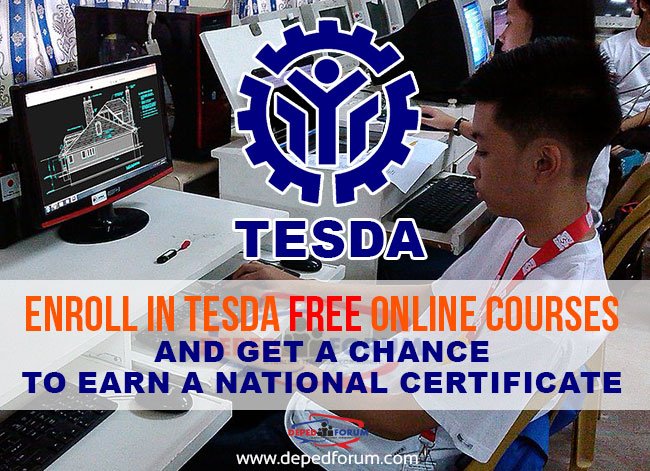 Advantages:
One of the advantages of TESDA Online Program is that you can learn on your own pace while staying at home or at the nearest internet cafe around your area. You can start and stop studying whenever or wherever you want.
TESDA Free Online Courses
There are approximately 50 free online courses that are currently available at TESDA Online Program.
MARITIME         
·         Ships' Catering
INFORMATION TECHNOLOGY   
·         C# Fundamentals for Beginners
·         Software Development Fundamentals
·         Developing 2D & 3D Games with Unity
·         Developing 2D Games with HTML5
·         Game Production Basics
·         Game Development
·         Microsoft Online Courses
·         Animation (3D DIGITAL)
·         CAD / CAM Operation
·         Web Development using HTML5 and CSS3
·         Computer Systems Servicing
·         Basic Computer Operation
·         Udacity – Google Courses
·         Android Development for Beginners
·         UX Design for Mobile Developers
·         SMART SWEEP Lecture Series
TOURISM           
·         Food and Beverage Servicing
·         Waiter Servicing
·         Room Attendant Servicing
·         Bus Boy Servicing
HOUSEKEEPING              
·         Provide Housekeeping Services to Guests
·         Guest Room Attendant Servicing
·         Valet Servicing
·         Public Area Attendant Servicing
·         Laundry Servicing
COOKERY           
·         Preparing Sandwiches
·         Preparing Egg Dishes
·         Preparing Vegetable Dishes
·         Preparing Starch Dishes
·         Preparing Salads and Salad Dressing
·         Preparing Appetizers
·         Preparing Desserts
·         Bread and Pastry Production
·         Preparing Pastry Products
ELECTRONICS    
·         Cellphone Servicing
·         Solar Night Light Assembly
AGRICULTURE  
·         Fruit Grower
AUTOMOTIVE  
·         Diesel Engine Tune Up
·         Automotive Battery Servicing
HEATING, VENTILATION AND AIR CONDITION   
·         Packaged Air Conditioner Unit Servicing
TRAINERS METHODOLOGY I
·         Plan Training Session
·         Facilitate Learning Session
·         Conduct Competency Assessment
TRAINERS METHODOLOGY II     
·         Curriculum Development
HEALTH, SOCIAL AND OTHER COMMUNITY DEVELOPMENT SERVICES    
·         Massage Therapy
·         Swedish Massage
·         Thai Massage
·         Shiatsu Massage
·         Beauty Care (Nail Care)
TESDA Free Onlince Course Frequently Asked Questions (FAQ)
What is TESDA Online Program?
The  aims to make technical education more accessible to Filipino Citizens thru the use of internet technology. It provides a more effective and efficient way to deliver technical education and skills development services to the majority with less cost and more reach.
Who can enroll in TESDA Online Program?
TESDA Online Program was created for students, out-of-school youths, unemployed adults, workers, professionals, and overseas Filipino workers. But ANYONE with the will to learn a new skill may enroll in this program. In short, TESDA free online courses are FOR ALL FILIPINOS.
How do I enroll in a course?
In order to access the available TESDA free online courses, you must first register an account. For detailed steps on how to register and enroll in a course, please visit this TUTORIAL.
Do I need to pay tuition in order to enroll?
The online courses offered by TESDA are available for FREE. You don't have to pay a tuition fee in order for you to access these courses.
Do we get a certificate of training after completing the online course?
You will NOT get a training certificate from TESDA immediately after finishing a free online course.
However once you finish your chosen course and if you think you are ready, you may take the face-to-face assessment for National Certification at any TESDA accredited assessment center or venue.
Who do I contact for technical support?
For comments, suggestions or technical problems, contact TESDA through:
Email: etesdapmo@tesda.gov.ph
Tel. No. : +63-2-8938297
To get in touch with a TESDA office  near you, please visit TESDA's Official Facebook Page
Below is the link to our tutorial that will walk you through TESDA Online Program registration.
Click on the link below to view the tutorial