Teachers are one of the busiest people out there. They are so busy that most of them have diverted their mode of socialization into social networking sites and online communities such as Facebook, Twitter, YouTube etc.
However, there are some us who have gone beyond the boundaries of the use of the world wide web. I am telling you, internet is a tricky and dangerous place especially if you do not know how to make use of it properly and cautiously. Do not take it for granted. Peace of advice? Think before you click.
Just recently, a teacher named Mark Joseph Lontok has been victimized by identity theft which caused him a debt of not lower than a whopping 800,000 pesos all from salary loans to which he was unaware of.  In an interview with GMA's nightly news program 24 Oras, Lontok said that upon passing the Licensure Examination for Teachers (LET), he got so much excited that he had posted his PRC license/ID. He also added that at the time he got a permanent position as public school teacher, he had also posted his papers on Facebook but the teacher didn't specify what type of document it is. Now, Lontok's payroll account is already getting a deduction of P9,000 and another bank is also about to deduct P10,000 from his account. The suspect on the other hand, is still on the loose and is believed to have also victimized other teachers using the same modus operandi.
5 Ways to Protect Yourself from Identity Theft and Online Fraud
1. DO NOT POST PERSONAL, PRIVATE, OR IMPORTANT INFORMATION ONLINE
This is the cardinal rule you must follow if you want to keep your private information safe from the hands of criminals.
DO NOT MAKE FACEBOOK YOUR DIARY. This, I think, is one of the vulnerabilities of social media users. Treating Facebook like it's their personal diaries. Posting everything on Facebook will do you no good. Avoid from revealing the following information:
License number
Employee number
ATM card details
Phone number
2. BE CAREFUL OF A PHISHING WEBSITE
A Phishing website is one that copies the interface of a particular website so as to make it look like it's the legitimate website where in reality, it only wants to look for your information such as your email, username, password, address and other private information. Most of these sites usually ask for the following.
Bank account number
Credit card number
Driver's license number
Home address and phone number
Health insurance id or information
Social Security number
Observe the photo below.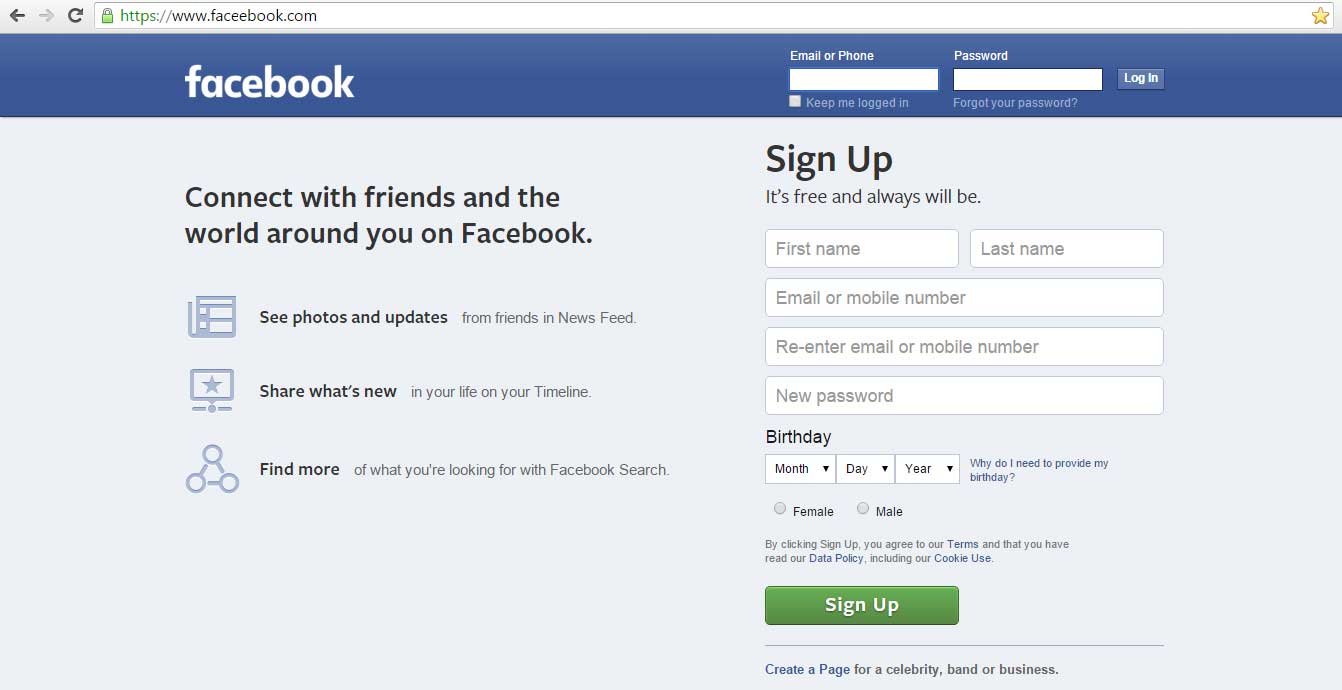 If you're a regular Facebook user, your first instinct will be to login and put your email and password. But take a second look, have you noticed that the there are TWO letter Es from the URL?
It works like this. The legitimate website should be https://www.facebook.com, however, the phishing website will take you to a webpage with the same look or interface but with a slightly different web address such as https://www.faceebook.com.
Once you have input your email and password, it will automatically be sent to the fraud who will then have the access to your Facebook account. Scary isn't it?
3. AVOID SAVING PASSWORDS ON BROWSERS
Google Chrome, Mozilla, and other browsers out there have this option that lets you save or remember your password for a certain website for you to log in easier on each of them every time you access them. But there's a downside and it could cause you a lot of trouble. The moment you opt to save your password on your browser, it will stay there and it can be accessed by anyone unless you delete it manually. Look at our sample below.
For tech-savvy criminals, this is just a piece of cake. Our tip for you is to avoid saving your passwords on browsers especially if you're working on computer shop.
4. USE AN ANTI-VIRUS/ANTI-MALWARE PROGRAM OR INTERNET SECURITY SUITE
Make sure to have an antivirus program installed on your computer. Keep it updated by connecting to the internet. By doing so, you will be able to prevent malicious files, viruses, and keyloggers from taking advantage of you. A keylogger is a type of software which records and saves all the keys you press on your keyboard and sends it to the fraud via email. Again, it's scary isn't it?
5. USE UNIQUE PASSWORDS FOR EVERY WEBSITE
The first attempt of a would-be identity theft is to try to login into your email or social media account using your email and a password which he/she thinks you uses. For your safety, please be used to a password which is not common to you. For example, instead of using your birth date as your password why not try your dog's birth date. The best way to have secured password is to use a combination lowercase and uppercase letters along with numbers and special characters. It should be at least 6-8 characters long. In my case, I have a different password for each website I access on a daily basis.
Below is a table that shows a comparison between a weak, a strong, and a very strong password. Let's suppose that you are a man named Jino and you were born on October 29, 1994.

BONUS: AVOID DOWNLOADING FILES OR INSTALLERS FROM SUSPICIOUS AND ILLEGITIMATE SITES.
Sometimes, you are unaware that the file you have just downloaded contains a malware that will spread a virus on your computer. It can also degrade your computer's performance or annoy with unwanted pop ups.
FINAL WORDS
Internet can be a dangerous place for people who are not aware of these online frauds. But you can help them by sharing this information. Be vigilant and be responsible with whatever you do online.