5 Ways to Protect Yourself from Identity Theft and Online Fraud
Teachers are one of the busiest people out there. They are so busy that most of them have diverted their mode of socialization into social networking sites and online communities such as Facebook, Twitter, YouTube etc.
However, there are some us who have gone beyond the boundaries of the use of the world wide web. I am telling you, internet is a tricky and dangerous place especially if you do not know how to make use of it properly and cautiously. Do not take it for granted. Peace of advice? Think before you click.
Just recently, a teacher named Mark Joseph Lontok has been victimized by identity theft which caused him a debt of not lower than a whopping 800,000 pesos all from salary loans to which he was unaware of.  In an interview with GMA's nightly news program 24 Oras, Lontok said that upon passing the Licensure Examination for Teachers (LET), he got so much excited that he had posted his PRC license/ID. He also added that at the time he got a permanent position as public school teacher, he had also posted his papers on Facebook but the teacher didn't specify what type of document it is. Now, Lontok's payroll account is already getting a deduction of P9,000 and another bank is also about to deduct P10,000 from his account. The suspect on the other hand, is still on the loose and is believed to have also victimized other teachers using the same modus operandi.
5 Ways to Protect Yourself from Identity Theft and Online Fraud
1. DO NOT POST PERSONAL, PRIVATE, OR IMPORTANT INFORMATION ONLINE
This is the cardinal rule you must follow if you want to keep your private information safe from the hands of criminals.
DO NOT MAKE FACEBOOK YOUR DIARY. This, I think, is one of the vulnerabilities of social media users. Treating Facebook like it's their personal diaries. Posting everything on Facebook will do you no good. Avoid from revealing the following information:
License number
Employee number
ATM card details
Phone number
2. BE CAREFUL OF A PHISHING WEBSITE
A Phishing website is one that copies the interface of a particular website so as to make it look like it's the legitimate website where in reality, it only wants to look for your information such as your email, username, password, address and other private information. Most of these sites usually ask for the following.
Bank account number
Credit card number
Driver's license number
Home address and phone number
Health insurance id or information
Social Security number
Observe the photo below.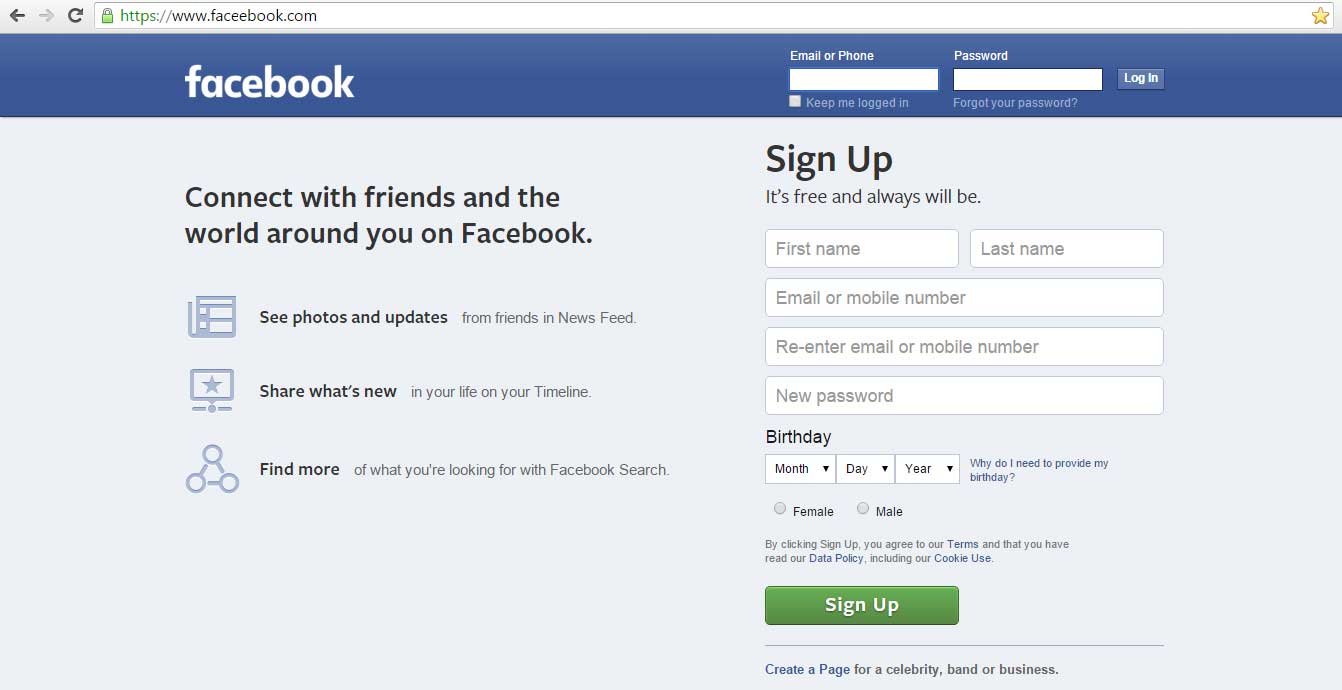 If you're a regular Facebook user, your first instinct will be to login and put your email and password. But take a second look, have you noticed that the there are TWO letter Es from the URL?
It works like this. The legitimate website should be https://www.facebook.com, however, the phishing website will take you to a webpage with the same look or interface but with a slightly different web address such as https://www.faceebook.com.
Once you have input your email and password, it will automatically be sent to the fraud who will then have the access to your Facebook account. Scary isn't it?
3. AVOID SAVING PASSWORDS ON BROWSERS
Google Chrome, Mozilla, and other browsers out there have this option that lets you save or remember your password for a certain website for you to log in easier on each of them every time you access them. But there's a downside and it could cause you a lot of trouble. The moment you opt to save your password on your browser, it will stay there and it can be accessed by anyone unless you delete it manually. Look at our sample below.
For tech-savvy criminals, this is just a piece of cake. Our tip for you is to avoid saving your passwords on browsers especially if you're working on computer shop.
4. USE AN ANTI-VIRUS/ANTI-MALWARE PROGRAM OR INTERNET SECURITY SUITE
Make sure to have an antivirus program installed on your computer. Keep it updated by connecting to the internet. By doing so, you will be able to prevent malicious files, viruses, and keyloggers from taking advantage of you. A keylogger is a type of software which records and saves all the keys you press on your keyboard and sends it to the fraud via email. Again, it's scary isn't it?
5. USE UNIQUE PASSWORDS FOR EVERY WEBSITE
The first attempt of a would-be identity theft is to try to login into your email or social media account using your email and a password which he/she thinks you uses. For your safety, please be used to a password which is not common to you. For example, instead of using your birth date as your password why not try your dog's birth date. The best way to have secured password is to use a combination lowercase and uppercase letters along with numbers and special characters. It should be at least 6-8 characters long. In my case, I have a different password for each website I access on a daily basis.
Below is a table that shows a comparison between a weak, a strong, and a very strong password. Let's suppose that you are a man named Jino and you were born on October 29, 1994.

BONUS: AVOID DOWNLOADING FILES OR INSTALLERS FROM SUSPICIOUS AND ILLEGITIMATE SITES.
Sometimes, you are unaware that the file you have just downloaded contains a malware that will spread a virus on your computer. It can also degrade your computer's performance or annoy with unwanted pop ups.
FINAL WORDS
Internet can be a dangerous place for people who are not aware of these online frauds. But you can help them by sharing this information. Be vigilant and be responsible with whatever you do online.

How to Write an Essay on Sally Field Sybil
Essays on Sibyl TV series require knowing the plot structure
Learn what to write in your essay on Sally Field Sybil topic to compose a substantial and exhaustive paper. The following post gives plenty of tips.
How to Write an Essay on Sally Field Sybil
Although, essays on the known TV series might seem to be an easy task to fulfill at first, there are occasions when an in-depth study of the topic is required to highlight some remarkable facts of actors' biography. A famous American television miniseries Sybil is just the case. Sally Field acquired a role, which seemed to reflect lots of her personal dramas and to uncover her full potential as an actress.
Her complex and dramatic character was unveiled in the best way possible making viewers deeply sympathize with the turmoil she suffered. The following post will try to cover some key aspects of an essay devoted to this series.
Biography
After you've finished the introduction part it is recommended that you mention some biographical facts your readers might find peculiar. One should stress that Sally Field grew up in the family where quarrels and fights between mother and stepfather were quite a frequent issue.
This period of life had left an abiding mark in Sally's memory but, at the same time, helped her to fully embrace a future role. Many critics admit that Sally Field Sybil wouldn't be played so perfectly if the actress didn't fall into her role. It was more than just playing Sybil, it was becoming Sybil.
Movies and Series Featuring Sally Field
Speaking of essays on TV series topics, a paper of this sort should contain the exhaustive information about the roles and movies an actor or actress featured in. This helps readers to get a clear picture of actor's professional experience, same as his/her path to the glory and general recognition.
For Sally Field the fame came after she had played the lead role in the known sitcom Gidget of 1965. It was the start point of her future career as an actress. Further years paved the way for the roles in the movies and series like
The Flying Nun (Elsie Ethrington)
Smokey and the Bandit (Carrie/'Frog')
Norma Rae (Norma Rae)
Places in the Heart (Edna Spalding)
It is notable that in the period from 90's to 00's Sally worked behind the scene as a film director and didn't show up on the screen much. The only remarkable role that she had was Miranda Hillard in the comedy Mrs. Doutfire, which is still thought to be one of the best family movies.
Sybil
This part of your work should concentrate exactly on her character in the 1976 TV series Sybil. You may draw a parallel between the other roles of an actress and make your own claims regarding the things making her an all-round person. It is, surely, your choice what to focus on.
As one probably knows, Sally Field played a woman named Sybil who suffered from dissociative identity disorder. As the story develops, a viewer discovers that the woman has multiple personalities 'living' inside her.
Naturally, this fact leads to the occurrence of drama and total inability to live a normal social life. One personality exchanges the other and some of those are capable of doing harm to Sybil, but the woman seems to not know about that.
When analyzing such a complex character or, better to say, a number of characters played by one and the same person one, surely, needs to pay close attention to the backgrounds causing this kind of disorder.
As some people say, things happen for a reason, and Sybil's life was not an exception. It is expected that you carefully study the woman's relationships with her mother and make your own conclusions regarding the matter as it appears to be an important aspect to cover.
In closing, we'd like to add that writing a substantial essay on a mentioned TV series topic might probably require watching all of the seasons of a given movie. If you skip some particular parts you might miss an important plot component that is needed to better understand a character, as well as her motives and rueful feelings.
When you start composing your essay try to take a complex approach to unveiling the character. Think what you'd feel while experiencing the same turmoil and you'll know what aspects to highlight.
Kumusta at Paalam Graduation Song by Sapang Alat Choir
Each year, during graduation season, it is not just a common practice but a tradition to look for the best, memorable, and tear-jerking graduation songs. Today, I'll be sharing with you "Kumusta at Paalam" , an originally composed graduation song that will surely bring jitters to your school's year end rites should you decide to use it.
Kumusta at Paalam / Graduation / Moving Up Song
Performed by: Sapang Alat Choir / Youth Siklab
Music & Words by: Ashdevon
Ito'y isang paalam
Salamat sa makabuluhang yugto
Taglay ang lahat ng natutunang kaalaman
Muli kong hahamunin ang mundo
Refrain:
Lahat ng pangarap ko'y mas malapit na ngayon
Sumpang sa kinabukasan puso'y itutuon
Chorus:
Kumusta(Kamusta) at paalam dito na nagtutugma
Ang bukas ng kahapon ngayon na ang simula
Kumusta at paalam dito na nagtutugma
Ano mang ibigay ng mundo kami ay nakahanda
Malaking pasasalamat
Sa aming magulang at mga guro
Sa walang sawang pagpasensya't pagmamahal
Asahan na hindi kayo mabibigo
Refrain:
Lahat ng pangarap ko'y mas malinaw na ngayon
Takot sa panginoon ANG puso'y itutuon
Repeat Chorus:
Kumusta at Paalam is an original composition of Ashdevon, a Songwriter/Composer, Vocal & Music Arranger , a Chorale Trainer, Instrumentalist, and an Indie Artist.
It was performed by Sapang Alat Choir (Ella Joyce Angeles, Clarizze Supremedo, Eunice Conde, Patricia Ann Conde, Alyzza Supremedo, Leizel)
In his YouTube channel, Ashdevon described Kumusta at Paalam:
Ito po ay isang awit sa pagpupugay sa lahat ng mga nagtapos/magtatapos, mga dakilang guro at mga pinaka mamahal na mga magulang. Ito po ay sadyang isinulat para sa konsepto ng pagtatapos."
If you want to have a FREE copy of the instrumental/minus one and lyric sheet of Kumusta at Paalam Graduation Song/Moving Up Song, please contact Ashdevon and the original singers through the following channels:
https://www.facebook.com/ashdevon
https://www.facebook.com/AshdevonMusic
https://www.facebook.com/SapangAlatChoir
https://soundcloud.com/sapang-alat-choir
https://www.facebook.com/YouthSiklab
or send him at email at: denz_ashdevon@yahoo.com
If you ever decide to use Kumusta at Paalam as your school's graduation song for this school year, please do not forget to give credits to its original singers and composers. Thank you so much!
Source: https://www.facebook.com/ashdevon/videos/1114636271882178/
Mountain Teachers Dangerously Cross a River on Their Way to School
A video of teachers risking their lives by crossing a river a on their way to school has gone viral on Facebook. The video was uploaded by Sir Ryan Pugales, an elementary teacher from Bukidnon.
As of writing, the video has already been viewed 22 thousand times and is being shared continuously. Teachers and other Facebook users who have watched the video urged Sir Ryan to send the video to the higher authorities to let them know of such situation our fellow teachers from Bukidnon are currently facing, everyday.
Unparalleled Devotion to Service
Teaching, among all other professions, probably is the most demanding job there is but it's also one the most rewarding job one can have. The video below only proves how much sacrifice we are willing to do in our efforts to provide quality education to our pupils.
On a sad note, it is a MUST for our government to be enlightened about the sacrifices of teachers and aid them in whatever way they can to lessen situations like these wherein teachers risk their own lives on their way to school.
All credits goes to Sir Ryan Pugales for the video footage. His original post can be seen here.
Please share this article so we can spread the message and make the higher authorities in our department be aware of this. Thank you.