Hi there teachers! Welcome to DepEd Forum! This site is an extension of our little Facebook Group (DepEd Forum). It serves as a home for free resources for teachers that are comprehensively organized into categories. You can get access to these resources absolutely FREE as long as it abide to our Terms of Use. All we ask is a little favor from you and that is to support us by "liking" our Facebook page and by joining our Facebook group. We sincerely extend our gratitude to you for this little act.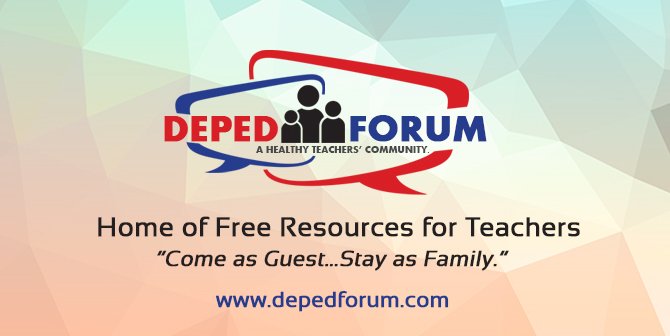 As you browse around this site, you'll get use to finding the resources you need as they can be easily seen are categorized accordingly. This site was created with a primary purpose of sharing valuable resources to our fellow teachers. Please share it with your friends and co-teachers.
Let's build a great relationship from here by helping one another. Thank you teachers!
Come as guest, stay as family!
– DepEd Forum Admins