Hey there! How are you teachers? It's been a while since I last posted an article here at DepEd Forum. April was a busy month. I didn't even feel the vacation, did you? Anyways, I am back with a huge and valuable share. Today, I am giving away three (3) tarpaulin layouts that you can use in your bulletin boards inside your classroom.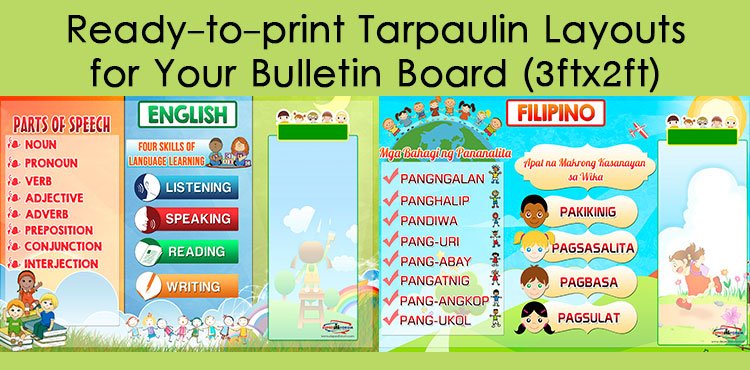 I created these layouts in Adobe Photoshop a few months ago. But before I give you the layouts, please read the following notes:
Specifications:
File Type: JPEG
File Size per file: 2.2MB – 3MB
Subject Areas: English, Filipino, Math
Dimensions: 3ft x 2ft
File Compression: Zip File (Extract the zipped file to see the layouts)
Who can use your tarpaulin layouts?
All teachers from around the country may use my layouts for FREE . You can either post it on your bulletin boards or use them as classroom posters.
You may also like:
Can I publish and re-upload your layouts/designs on another blog or website?
No, these layouts are exclusively shared here at DepEd Forum.
Can I sell your tarpaulin layouts?
That's a big "NO". Let  me make it clear that I'm sharing these layouts for FREE! If you see anyone who will take advantage of my work by selling it to other teachers out there, please let me know and I'll take the necessary actions.
How can I print these layouts?
Once you have downloaded the files, just copy and paste it into your flash drive or a disc and bring it to your preferred tarpaulin printing shops. The sizes are already indicated in the file names.
How much will I spend for the printing?
There are shops who print tarpaulins at a rate of 18 pesos per square foot but there are cheaper ones out there (lower quality).
3ft x 2ft x18pesos per square foot = the total cost per tarpaulin layout
3 x 2 x 18 = Php108.00
Since there are three layouts here, you'll spend around 324 pesos for the printing.
How about you, how much will I pay you for these tarpaulin layouts?
Again, I want to reiterate that I'm sharing this layouts for FREE. Just a simple "Thanks" will do.
How can I download your tarpaulin layouts?
It's simple. Just click on the blue download button below.
If the download link from the button above did not work, try downloading it from Google Drive. Click HERE.
If you think these layouts are helpful, please share this article on Facebook, Twitter, or Google Plus. You can also follow us on Facebook by "liking" our page or by joining our growing friendly Facebook community.